BRISTOL, VA (December 8, 2016) -- Premier award-winning bluegrass band Blue Highway will host a first of its kind All Request Fan Appreciation Concert on Saturday, April 15, 2017, at Emory & Henry College in Emory, Virginia. 
One the heels of a GRAMMY Award Nomination for Best Bluegrass Album earlier this week, Blue Highway announced a new date today for the much anticipated event, postponed earlier this year due to illness.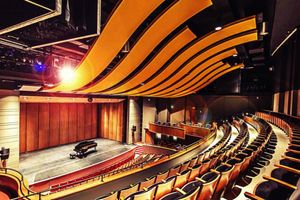 The concert will be held at Emory & Henry's new McGlothlin Center for the Arts, an elaborate new $20 million luxurious facility set amidst the rolling hills of Virginia just east of Bristol. 
Blue Highway fans have a choice of two show times on Saturday, April 15  --  2:00 pm Matinee and 7:00 pm Evening. 
The elaborately produced event is a Thank You from the members of Blue Highway to their friends and fans who have loyally supported the 22-year strong powerhouse group. 
Fans who buy tickets to the concert will vote for their favorite Blue Highway songs spanning the band's 22 years and 11 studio albums, including the new Grammy nominated 'Original Traditional.'  Blue Highway will perform the Top 20 Songs chosen by their fans. 
Fans will choose from seating sections with names reflecting Blue Highway's biggest hits: 
*  Marbletown - Front Row 
*  V-Bottom Boat - Orchestra 
*  Sycamore Hollow - Mezzanine 
*  Keen Mountain - Balcony 
*  In the Gravel Yard - Floor Box Seats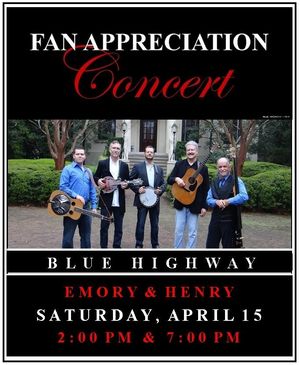 With only 461 seats in the spectacular venue, all seat views are potentially fantastic from Floor Box Seats to Balcony. 
Fan-centered options abound, from collectible programs to fans voting for their favorite Blue Highway songs, to four fans winning a chance to introduce their favorite songs at the concerts, to All-You-Can-Eat Buffet Lunches and Dinners for only $6 and $8 served on April 14-15 at the beautiful Van Dyke Center overlooking the duck pond on Emory & Henry's campus.  All fans attending the concerts are eligible to win door prizes, including one-of-a-kind Grand Prizes:  a Blue Highway festival chair with carry bag, and a specially designed Blue Highway Box Set of the band's albums. 
The band will also be recording their first LIVE album during the two concerts! 
Workshops with Blue Highway band members will also be offered in Banjo, Dobro, Fiddle / Mandolin, Guitar, and Songwriting on the day prior to the concerts:  Friday, April 14, at 6:00 and 7:30 pm. 
TICKETS GO ON SALE on Friday, December 9, at www.BlueHighwayBand.com.   A special Launch Week Promotion will give fans who purchase tickets during the first week -- from December 9-18 -- a special Holiday Card signed by Blue Highway announcing they have tickets to the show.  The special card can be used as a stocking stuffer if tickets are purchased as a holiday gift. Or fans can keep the card as a collectible item from this first-of-its-kind Blue Highway Fan Appreciation event. 
Tickets, Workshop Registration, Concert Video Intro, and full details all await at www.BlueHighwayBand.com! 
### 

 
Press Release Courtesy of:
Sherri George
Tour Manager and Publicist, Blue Highway 

________________________