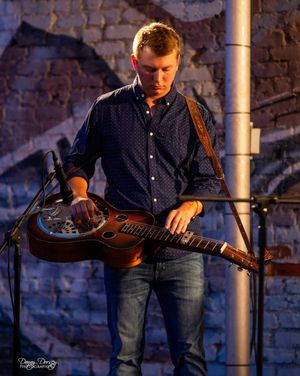 BRISTOL, VA  (January 7, 2019)  --  Blue Highway is pleased to announce the addition of gifted vocalist and resophonic guitarist Gary Hultman as the newest member of the award-winning band. 
"Gary Hultman is a first-rate musician and singer," said Tim Stafford, Grammy Award winner and co-founder of Blue Highway.  "And he's a great guy ~ one of the absolute best.  We're all beyond thrilled he's the newest member of Blue Highway!" 
Hultman will replace Justin Moses who will be increasing his touring schedule with his beautiful wife, the award-winning Sierra Hull, after the successful introduction of their duo talents last year. 
Gary Hultman is a gifted young man who spent four years as Dobro player with the highly celebrated Grammy-nominated Boxcars, and most recently performed with the Adam Steffey-created Highland Travelers. 
"Gary has talent beyond his years," said Steffey. "He has the great ability to play what each song needs:  never overplaying or showboating, always sensitive to the song and the dynamics that it requires." 
"When I first heard Gary play with the Boxcars, I was impressed with his musical instinct on the Dobro and how he used it to better the song, no matter what the song was," said Shawn Lane. "When I got to meet him later, I could tell he was a great guy, too. I'm looking forward to making some music with this cat!" 
"I've been a huge fan of Gary's from the first time I heard him!" said Jason Burleson. "He's such a great player and singer, and is absolutely one of the nicest guys you'll ever meet. Looking forward to playing music and hanging out with this guy!"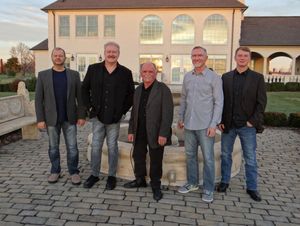 The excitement is mutual, as Hultman has Blue Highway in his blood.  He grew up listening to the band's music and learning from its famed founding Dobro player Rob Ickes at his heralded Reso-Summit workshops in Nashville. 
"Blue Highway has been such a huge part of my upbringing in music, and to say that I am excited would be an understatement!" said Hultman.  "Not only has the band been an influence and inspiration to me, but so has each member's playing, singing, and songwriting. Becoming a part of Blue Highway really means a lot to me, especially as a Dobro player. I know I'll never fill the shoes that have come before me, but I look forward to the challenge ahead with passion. To play the band's songs that I have left on repeat, practiced along to, and genuinely loved for years .. on stage, with THE band ... I would never have dreamed I'd have the opportunity! It is truly an honor and a blessing. All of the guys are so kind, and I look forward to traveling and picking with them!" 
"We're pumped to start our 2019 tour, and can't wait to make some new music with Gary!" said Blue Highway co-founder and Virginia Country Music Hall of Fame member Wayne Taylor. 
Blue Highway's 2019 tour schedule kicks off in the band's home base of Tennessee, as they play the The Down Home in Johnson City on January 18-19, and The Open Chord in Knoxville the following weekend on January 25, 2019. 
For the band's full tour schedule and more information on Blue Highway, please visit www.BlueHighwayBand.com. 
### 
About Blue Highway: 
Blue Highway is a respected 25-year strong band heralded as a supergroup with 28 IBMA Awards, 6 SPBGMA Awards, one Dove Award, and three GRAMMY nominations.  Four of its founding members are still intact:  Tim Stafford (guitar and vocals), Wayne Taylor (bass and vocals), Shawn Lane (mandolin, fiddle, guitar, and vocals), and Jason Burleson (banjo, mandolin, and vocals). The band is pleased to welcome Gary Hultman (Dobro and vocals) in January 2019. 
About Gary Hultman: 
Gary grew up on a farm on the Canadian border in the small town of Birchdale, MN.  He loves hunting and fishing, and fell in love with music when his family formed a bluegrass band when he was 10 years old. Gary played Dobro in his family's band until he left Minnesota for the hills of East Tennessee as he enrolled in the Bluegrass, Old Time, and Country Music program at ETSU in Johnson City.  Hultman was invited to join the elite ETSU Bluegrass Pride Band and travel to Japan on tour during the summer of 2014.  ETSU's program opened the doors for Gary to live his dreams, as he has performed on stage with many of his musical heroes, such as Ricky Skaggs, Doyle Lawson, Adam Steffey, and Blue Highway's Tim Stafford.  Gary attended Rob Ickes' ResoSummit as a student, and has cherished the opportunity to return in recent years as an instructor.  Hultman was Dobro player for the highly celebrated Grammy-nominated Boxcars for four years, and most recently performed with the Adam Steffey-created Highland Travelers.  Gary recently married his college sweetheart, the former Ashley Nale of The Loose Strings Band, and they reside in Galax, VA.
Press Release courtesy:
Sherri George
Publicist and Tour Manager, Blue Highway