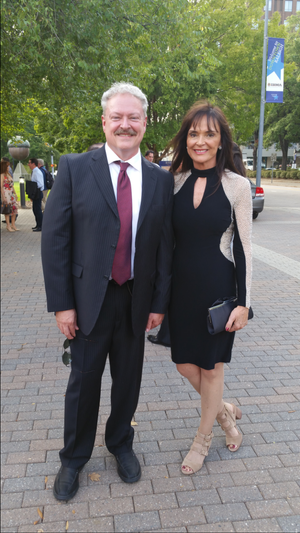 RALEIGH, NC  (September 29, 2017) --  Tim Stafford, co-founder of the award-winning band Blue Highway, was honored as 2017 IBMA Songwriter of the Year as part of the 28th Annual International Bluegrass Music Association (IBMA) Awards yesterday in Raleigh. 
This is the second IBMA Songwriter of the Year Award for Stafford, the first being awarded in 2014. 
Blue Highway was also nominated for two additional awards:   Vocal Group of the Year and Gospel Recorded Performance of the Year for the song "Hallelujah" from Blue Highway's GRAMMY Award-nominated album, "Original Traditional," a 2016 release on Rounder Records. 
A GRAMMY Award winner, Stafford is a gifted songwriter, guitarist, vocalist, producer, session musician, collegiate instructor, and author.  Tim was recently honored as 2015 Distinguished Alumnus in the Arts by the National Alumni Association of East Tennessee State University.  He also was named 2014 IBMA Songwriter of the Year and 2015 SPBGMA Guitar Player of the Year.   A former member of world-renowned Alison Krauss and Union Station, Tim released his third solo album in mid-September entitled "Acoustic Guitar" to rave reviews. 
East Tennessee-based Stafford and Blue Highway have amassed a cumulative 27 IBMA Awards, 6 SPBGMA Awards, one Dove Award, and three prestigious GRAMMY Nominations as a band since Blue Highway's founding in 1994. 
For more information on Tim Stafford and Blue Highway, please go to www.TimStaffordGuitar.com and www.BlueHighwayBand.com. 
###
Press release courtesy:
Sherri George
Publicist and Tour Manager, Blue Highway