~~~
We look forward to seeing each of you on the road!  Our warmest thanks and best wishes to all of you and your families ~ from all of us in the Blue Highway family!
~~~
In 2023, the highly-esteemed bluegrass band Blue Highway celebrates 29 years of touring, with four of the original members still intact. Its single "On the Roof of the World" was number one on the Bluegrass Today National Airplay chart for 4 weeks from July to August 2022, and was the number one song for the month of September while its follow-up "Lonesome State of Mind" was number one five times on the weekly chart and for the months of February,  March and May 2023.
The band has earned a collective 32 IBMA Awards, 6 SPBGMA Awards, one Dove Award, plus three Grammy nominations.  Most recently, the band was nominated for IBMA's 2022, 2021 and 2020 Vocal Group of the Year and Song of the Year Awards.
Blue Highway's #1 album Original Traditional  was nominated for a 2017 GRAMMY Award for Best Bluegrass Album.
Blue Highway was voted the Favorite Bluegrass Artist of All Time by the readers of Bluegrass Today in April 2016.
Tim Stafford received honors as 2001 and 2015 SPBGMA Guitar Player of the Year and 2014 and 2017 IBMA Songwriter of the Year.  He co-wrote the 2008 IBMA song of the year--recorded by the band--"Through the Window of a Train."
Wayne Taylor was inducted into the Virginia Country Music Hall of Fame in October 2016.   Shawn Lane was nominated as 2015 IBMA Songwriter of the Year.

The band's latest album "Somewhere Far Away: Silver Anniversary" is available in our Music Store.  "Both Ends of the Train" was nominated for IBMA's 2020 Song of the Year.
Blue Highway charted the Most Radio Airplay of any Bluegrass Artist in 2014, per the  2014 Bluegrass Today Radio Airplay Chart, storming national airplay charts with their heralded album The Game, which topped multiple charts, including reigning at # 1 for 7 consecutive months on the Bluegrass Unlimited Album Chart, and was named the #1 Bluegrass Album of the Year by critic Daniel Mullins in his end of the year Top 20 Albums of 2014 list in Bluegrass Today.
As momentum continues to build for the quarter-century strong powerhouse band, Blue Highway is rolling on with a rich legacy and three powerhouse songwriters, instrumentalists and vocalists in Tim Stafford, Wayne Taylor, and Shawn Lane, whose harmonies soar over the dynamic banjo of Jason Burleson and the tasteful Dobro of Gary Hultman. 
____________________________

 
WORD IS OUT!!  The 2nd annual Blue Highway Fest lineup is HERE! Simply one of the BEST festivals in the U.S. celebrating Bluegrass and roots music! Oct. 11-14 in beautiful Big Stone Gap, VA. Songwriters workshop and round featuring Darrell Scott, Tony Arata and Ed Snodderly with members of Blue Highway on Wednesday, Oct. 11! Check back for more information--Tickets available the first week of April at www.Bluehighwayfest.com
SEE YOU THERE!!!!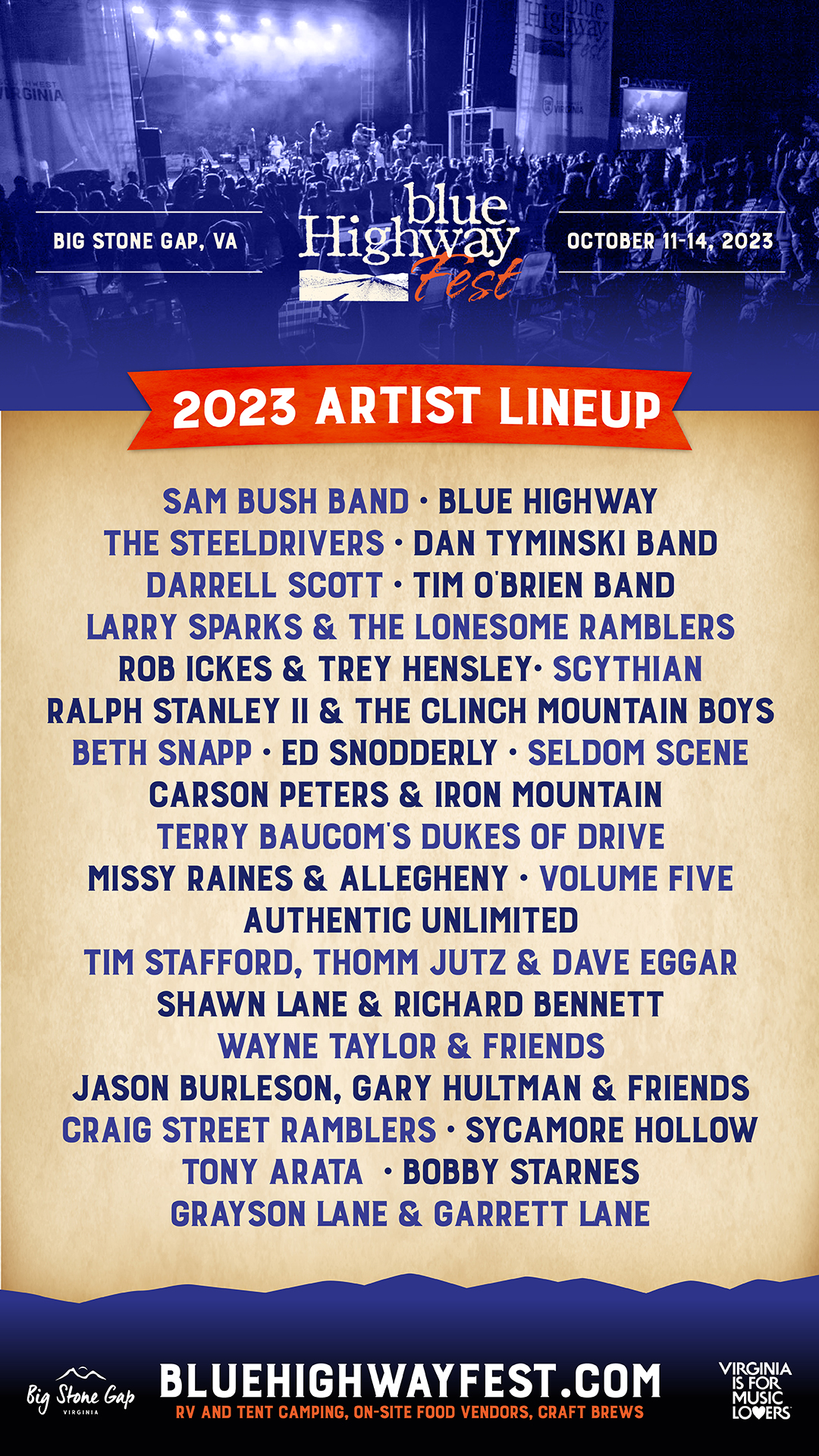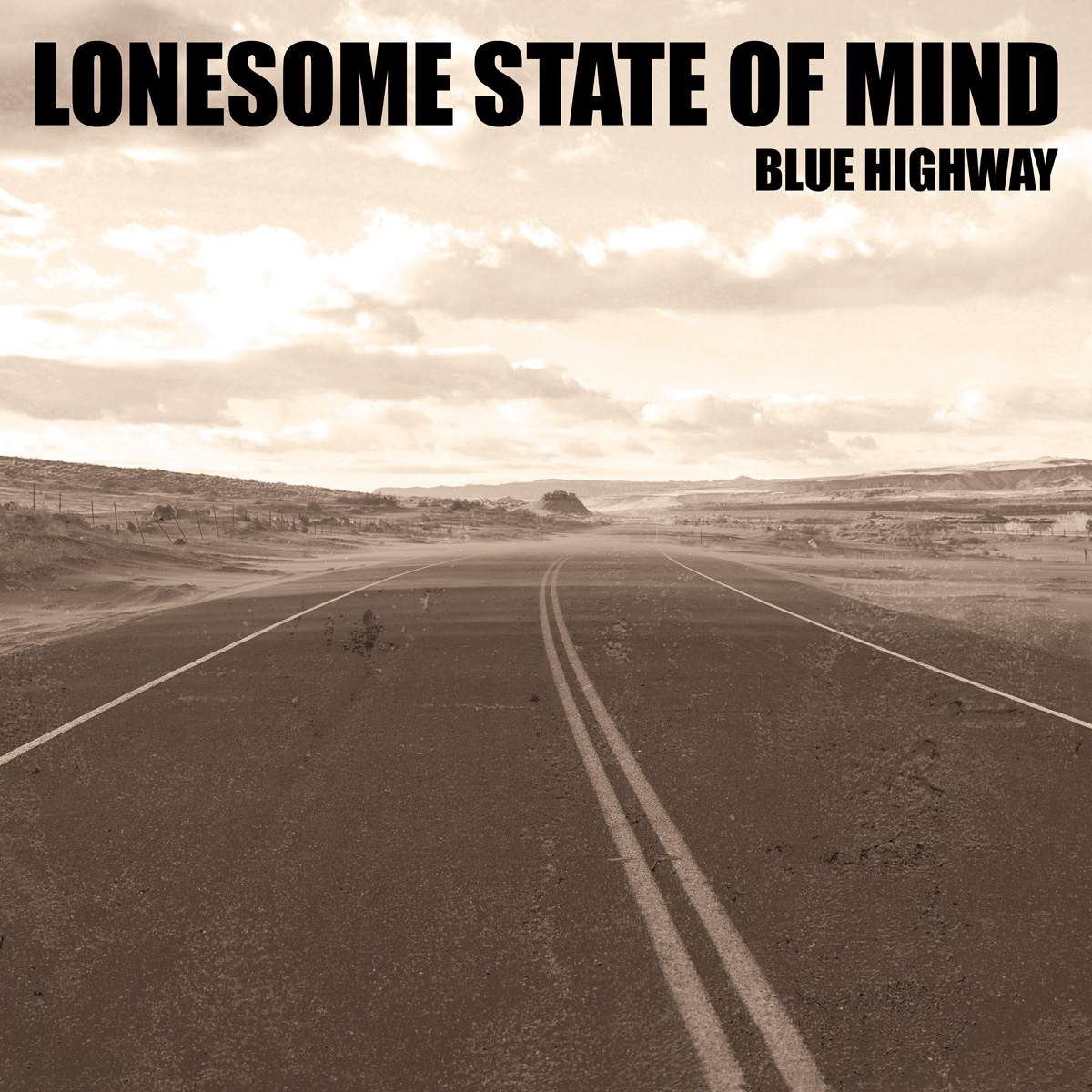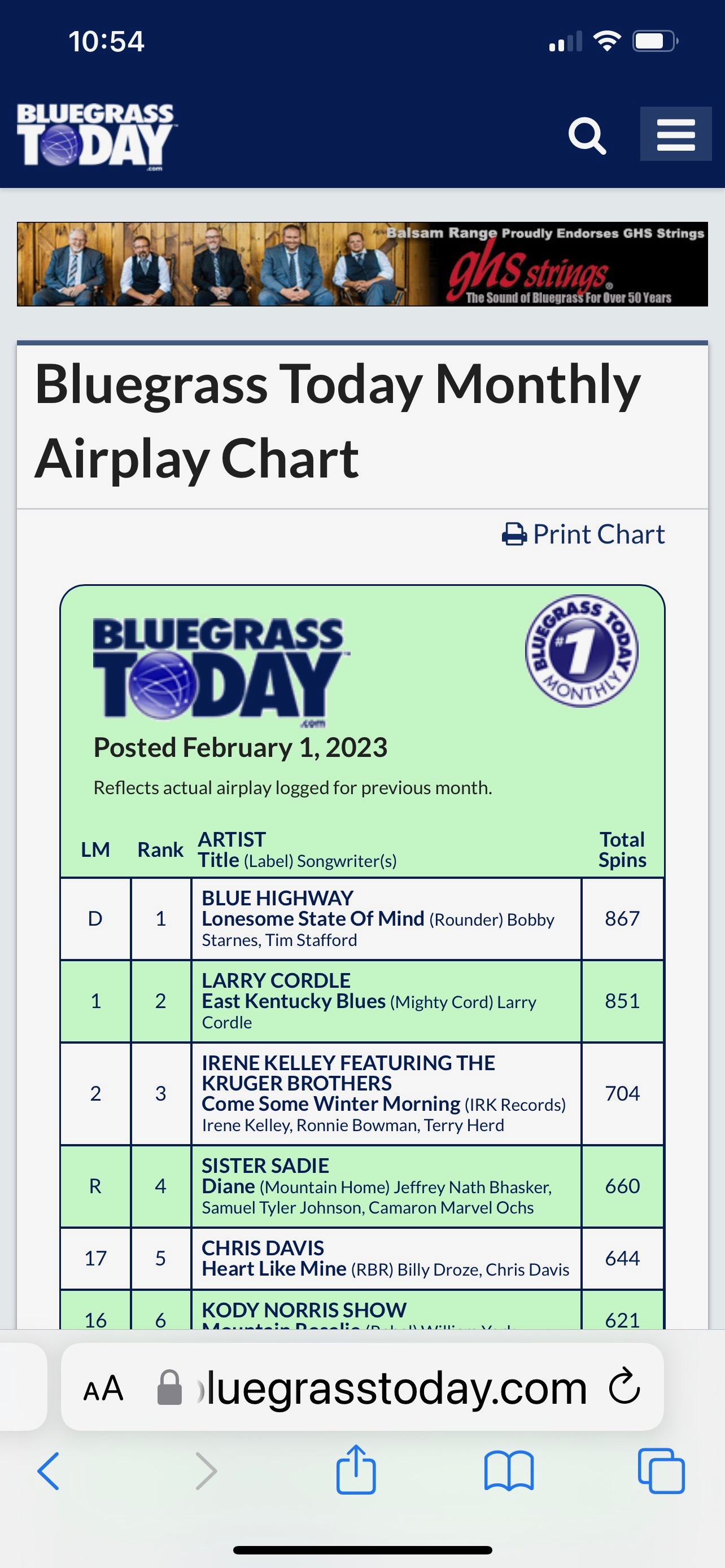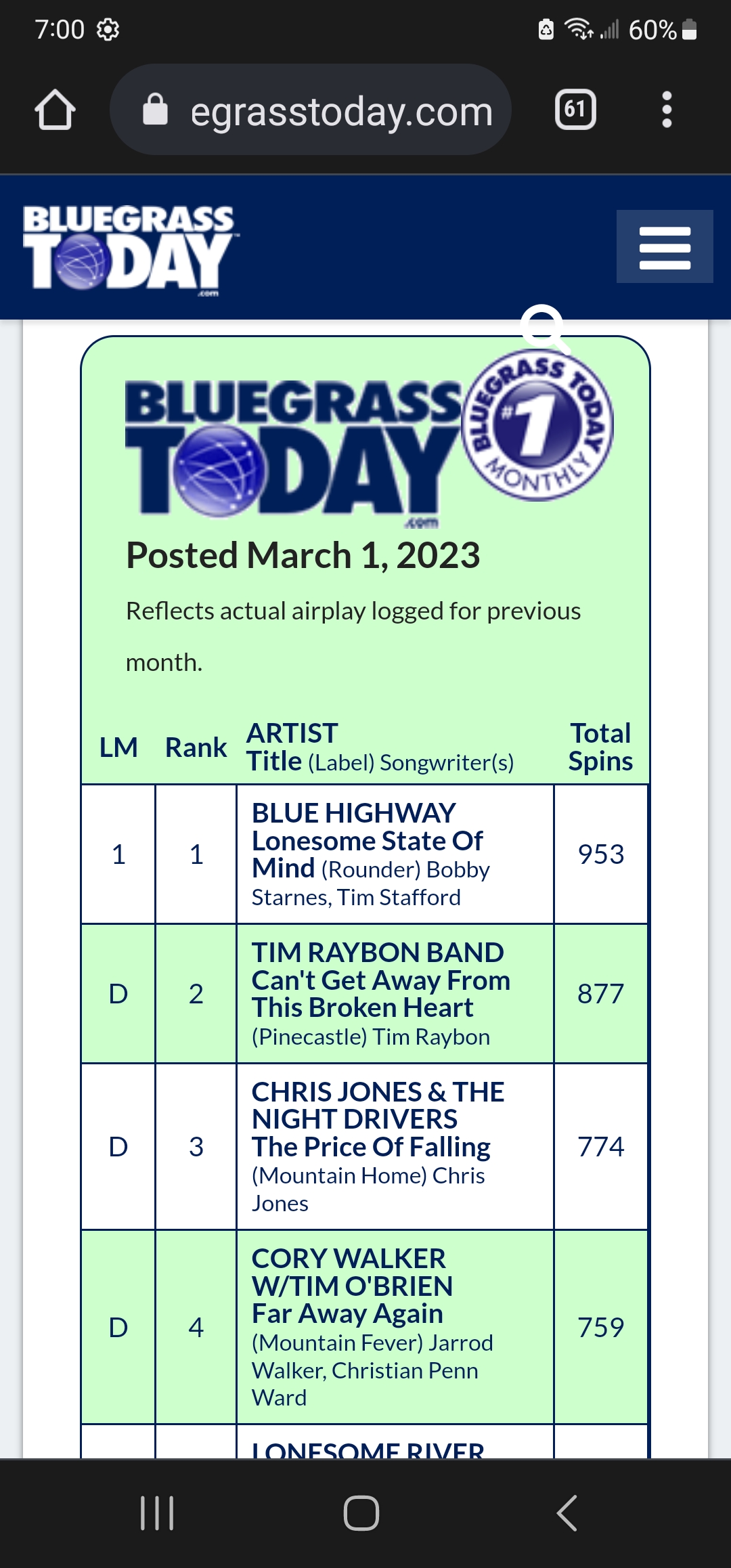 "Lonesome State of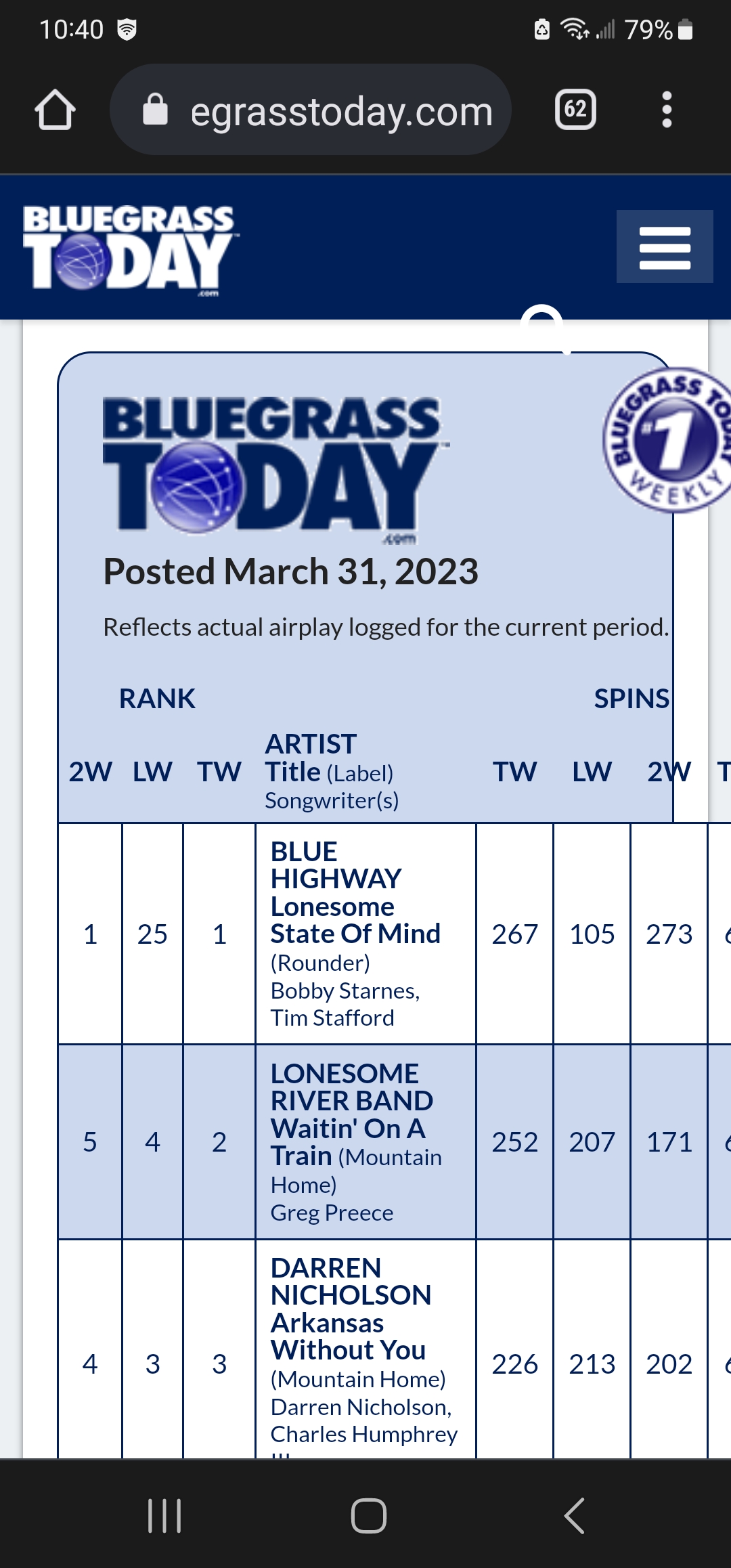 "Lonesome State of Mind" written by Tim Stafford and Bobby Starnes is  #1 on the Nationwide Bluegrass Today Monthly Airplay chart for the months of February and March 2023! Thanks to all the deejays and folks who have requested our music. #rounderrecords #bluehighway #bluegrassmusic #bluegrass #bluegrassfan
Check out Derek Halsey's great review article on the Innaugural Blue Highway Fest in January 2023's Bluegrass Unlimited!  https://www.bluegrassunlimited.com/article/blue-highway-fest/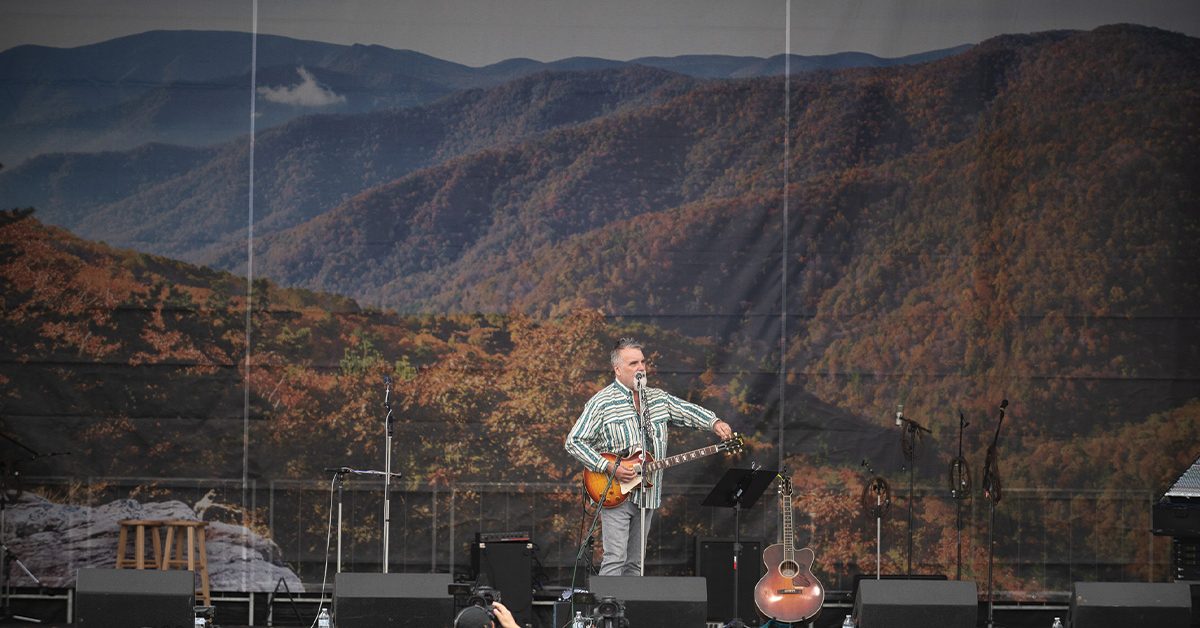 NEW SINGLE!!! The band is proud to announce its new single, "Lonesome State of Mind" is now available everywhere music is streamed.  The song, written by Tim Stafford and Bobby Starnes, is a classic banjo-driven bluegrass heartache number featuring Wayne Taylor on lead vocal, great solos from Jason Burleson, Gary Hultman and Shawn Lane and a classic Wayne/Shawn duet!  Have a listen here.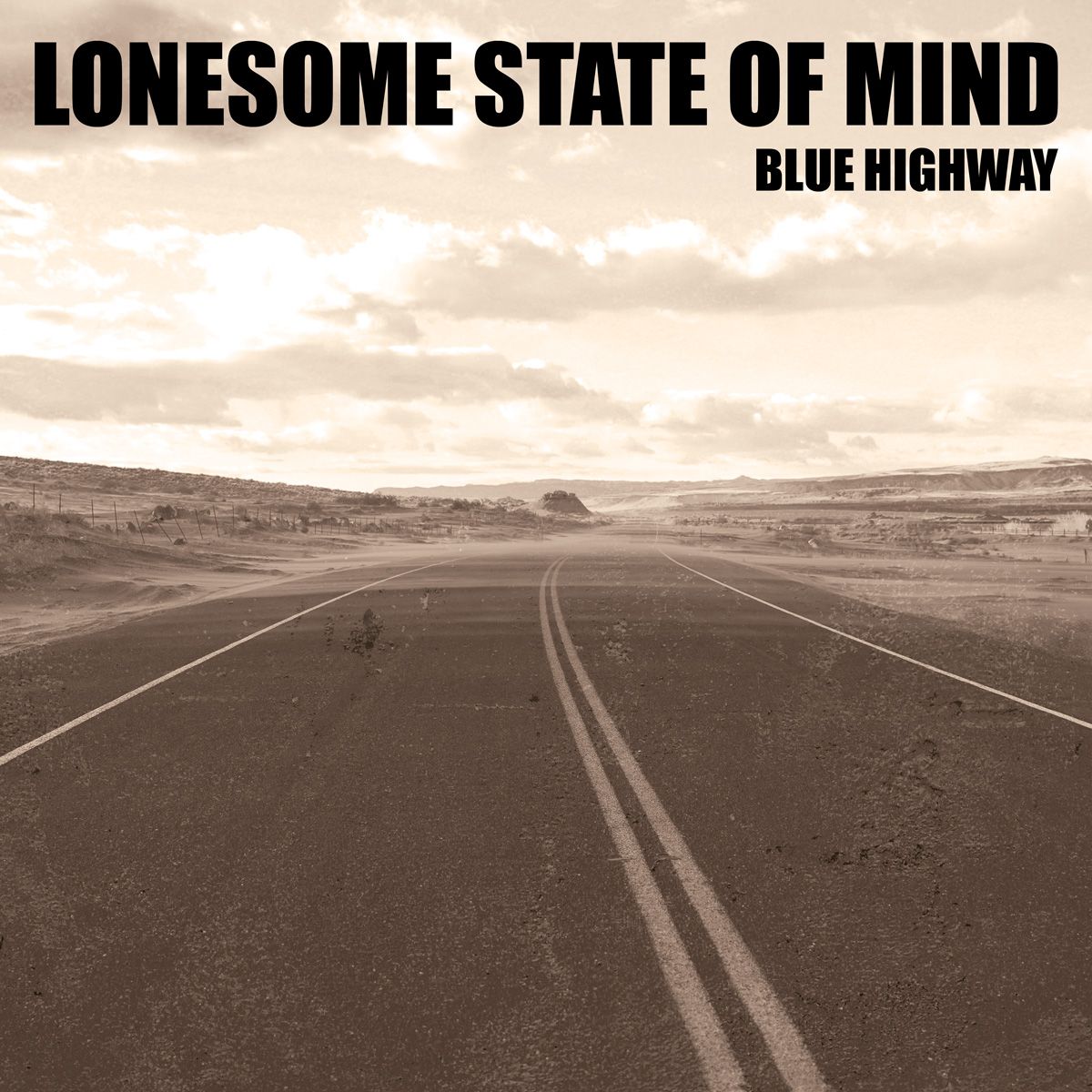 HOLIDAY SALE!!  FREE DOMESTIC SHIPPING!
For a limited time, we are featuring FREE domestic shipping on everything in our store!  As of Thanksgiving Day, we have the following quantities:
Lonesome Pine 14
Marbletown 4
Sounds of Home 4
The Game 9
Somewhere Far Away 5
Gray Short sleeved Tee 21
Original logo vintage ball cap 4
Last chance cap 12
Original vintage white tee 13
Brown Tee 2
Order soon for FREE Holiday shipping!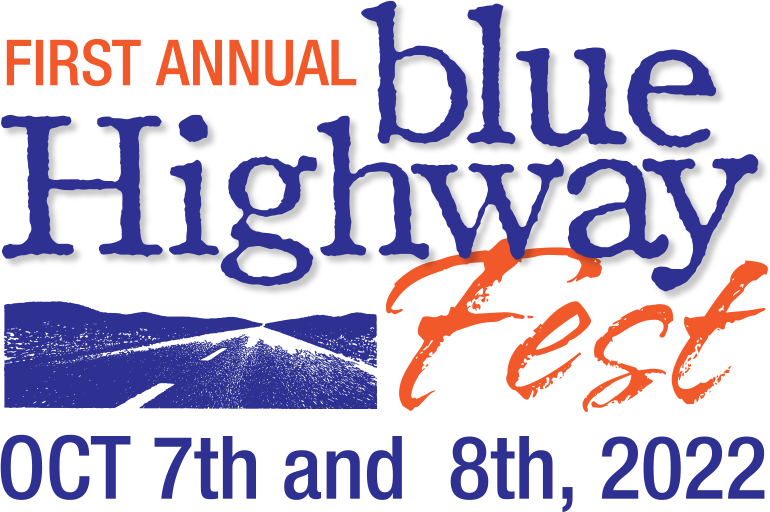 Blue Highway and the town of Big Stone Gap, VA were proud to present The first annual BLUE HIGHWAY FEST, October 7-8, 2022 at Bullitt Park in Big Stone Gap, VA. The lineup was epic and included Blue Highway, Sam Bush Band, Tommy Emmanuel, The Earls of Leicester featuring Jerry Douglas, Dan Tyminski Band, the Travelin' McCourys, Scythian, Sierra Hull Band, Darrell Scott, Seldom Scene, Balsam Range, Larry Sparks and the Lonesome Ramblers, Ralph Stanley II and the Clinch Mountain Boys, Brooke and Darin Aldridge, Ed Snodderly, Carson Peters and Iron Mountain, Richard Bennett, Dave Eggar, Thomm Jutz, Jacob Burleson, Ashleigh Hultman and Beth Snapp. MAKE PLANS NOW TO ATTEND IN 2023!!! https://bluehighwayfest.com/
Come join us next Fall in the Blue Ridge Mountains of Virginia on the Trail of the Lonesome Pine, to celebrate the rich heritage of Bluegrass and Roots music, food and culture, with Blue Highway and their friends! On-site camping (RVs and tents), On-site food vendors, Craft brews... Children under 12 FREE!
Blue Highway wishes everyone a very happy 2022!  Dec. 31, 2021 marked the 27 year anniversary for the band, and we are ready for normal to return so we can see everyone on the road during our 28th year of touring!  Look for new recordings and some exciting announcements from the band soon--check our schedule for updates.